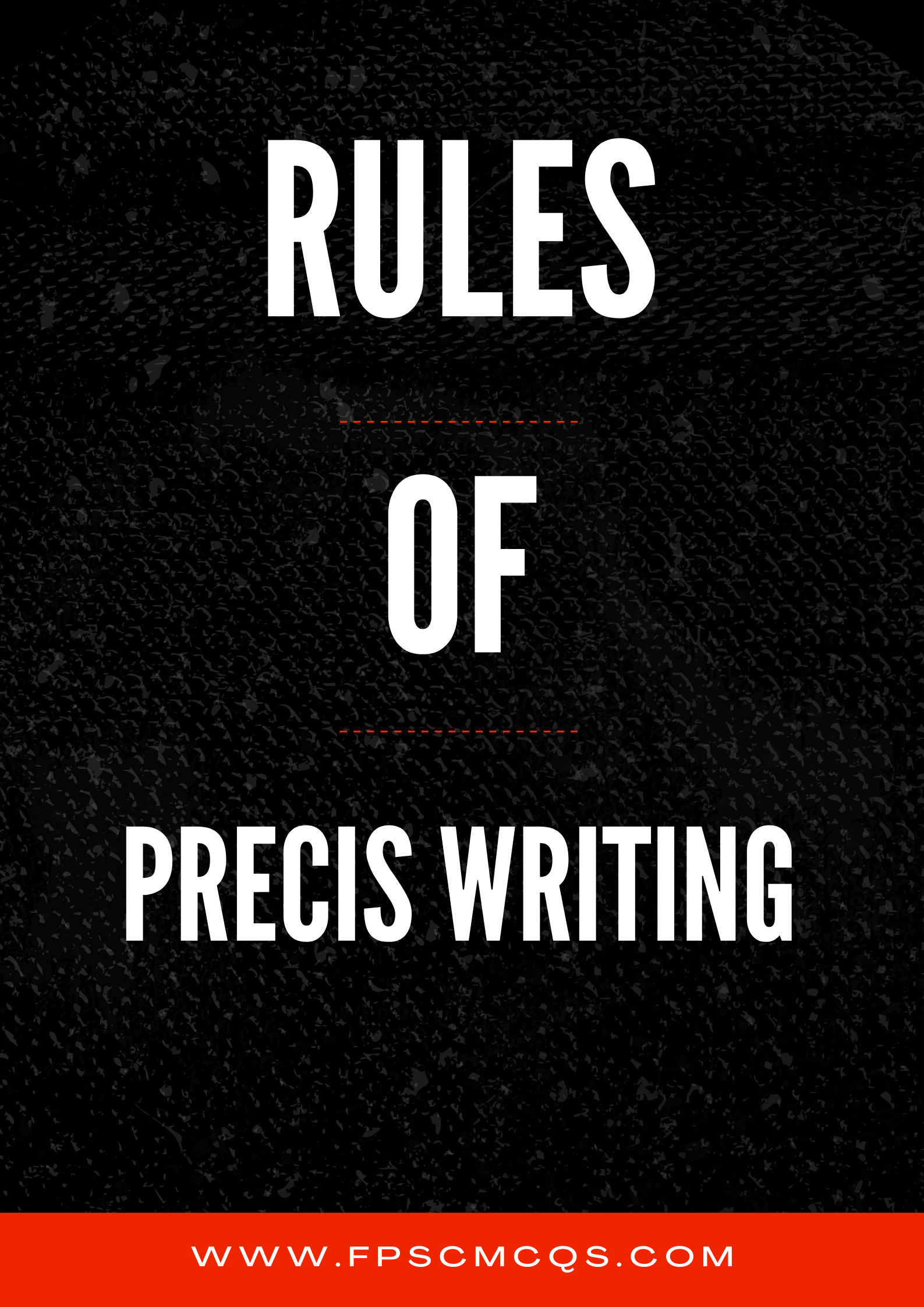 Rules Of Precis Writing For Beginners
RULES OF PRECIS WRITING FOR BEGINNERS
This article has been started for providing guidelines to beginners about précis writing. Précis writing cannot b neglected as compared to other subjects. A précis may be defined as a summary or shortened form of a piece of writing, in which matters of detail are left out and only the important points are retained. The student must possess the judgment to b able to seize upon the essential points in a passage and leave out what is unnecessary but he must have an adequate vocabulary not only to understand the meaning of the given passage but also to b able to express its main ideas in his own language. Most composition books contain a number of "rules" for précis writing, followed by a large number of passages for exercise. Now, no rule can be grasped in the abstract; they can b understood only if their application is actually demonstrated to the readers. Besides, passages are often chosen at random, without regard to their suitability for the purpose. Précis writing is a wonderful skill. You will find it useful throughout your life; in writing official letters, business letters, personal letters, even Whatsapp messages. It will add punch and style to your writing. You will get the knack to cut out crap and state what you want to say in lesser words thus keeping your reader focused on your letter. Your vocabulary will be improved. Rules Of Precis Writing For Beginners is also helpful for the Preparation of Competitive Exams. Every passage is followed by…
 

vocabulary

Hints to writing own Precis
A model précis
Rules Of Precis Writing For Beginners
Read the given passage carefully at least three times in order to be able to grasp what the writer has said or grasp the main idea.
Underline the important points to be included in your précis. A point is important if it is intimately connected with the main subject and if it is essential for a clear exposition of the theme.
Use your own language in the précis. While words and phrases from the original may be used in the précis, Whole sentences should never be lifted out of the original to be included in it.
The précis should be roughly one-third of the original passage. Always prepare a rough draft first and count the words. If you find that it is too long, Shorten it by removing what seems inessential and by condensing phraseology. If it turns out to be too short, Read the original to see what more can be added to the précis.
Examples, illustrations, and comparisons should be left out of the précis. The figure of speech should be removed and the ideas expressed in clear, direct language.
Your own comments on the ideas of the précis are absolutely forbidden. Do not express any opinion, favorable or unfavorable, about the ideas in the original passage.
Be very careful about the language you write. Mistakes of grammar and spelling are penalized as much in the précis as in other forms of composition.
See that your précis is a piece of readable English and that its ideas can be understood even by a person who has not gone through the original. This is very important.
Your précis should be a connected whole. As such it should not be divided into paragraphs.(this rule does not apply to very long original pieces of writing such as those set in the competitive examinations).
Do not use the direct form of speech in the précis. If the author has written in the first person pronoun using "I" and "my", you should write in the third person pronoun: "he" and "his". The précis may in such cases begin thus: "the author says…………", or "according to author……".In case the name of the author, Chesterton or Johnson, is given at the end of the passage, The précis should begin thus: "According to Chesterton………", or "Macaulay says……" or "Johnson expresses the view……..".
Think of a suitable title for the précis. The title should ordinarily not be a complete sentence. A title must be supplied even though it may not have been asked for.
Do not introduce ideas of your own. Do not criticize or change the author's ideas.
Try to limit your précis to no more than 1/3 the length of the original passage. Use clear, factual expressions, do not attempt to copy the style of the original source.
Here You Can Find Lot Of Competitive Exams Solved Papers All Subjects:-